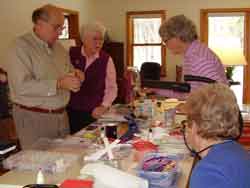 The Dancing Quillers of VT/NH are a group of square dancers from Vermont and New Hampshire who have also taken an interest in quilling. The group was formed in late 2010 when Marianne had been taking her quilling to square dance workshops to do between the dancing tips. Everyone was curious to know more about quilling. Eventually five of the dancers decided to take Marianne's Basic Quilling Class. After that class they wanted more get-togethers (sometimes called mini-meets). There are now seven quillers from the square dancing group of whom four have become members of the North American Quilling Guild. The group is very friendly and invites other quillers to attend our mini-meets. It is a fun day of quilling and learning new techniques from each other.
The group's newest project has been making quilled magnets and bookmarks to raise money for the National Square Dance Convention held in Springfield, Massachusetts in June 2015. Each magnet has a quilled New England state bird and flower on it. Each bookmark has either a quilled New England state bird or flower on it. Background colors vary. Magnets are still available for $10 and bookmarks for $5. Ninety percent of the proceeds go to the 2015 National Square Dance Convention. The Dancing Quillers are donating their time making the items. You may contact Marianne Fassett here to order items.
NOTE: Our quilling workshops at the National Square Dance Convention were a huge success! We did 2 workshops with a total attendance of 55 people who made a small greeting card with a basket of quilled flowers on the front. Below is a picture of our mini-meet before the convention in preparation for the convention workshops.
Click on any image below to see a larger version.
Quilling by Marianne
Website design ©2010 CustomSUPPORT
All Rights Reserved. Unauthorized use or duplication prohibited.
Comments about this site? Contact: Webmaster