About Me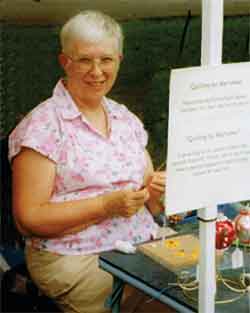 When Marianne Fassett of Enfield, NH delved into the ancient art of paper curling (called quilling), she discovered the perfect medium through which to express her artistic sensibilities. A self-taught artist with a lifelong fascination with miniatures and a deep respect for the natural world, Marianne curls and fashions innumerable strips of colored paper into startlingly detailed depictions of birds, flowers, trees, and animals both large and small.
Like a painter working with a model or studying a landscape, Marianne bases her work on the reality of what she sees. "I'm trying to copy nature," Marianne explains, "So I Google™ images to find the most realistic representations."
Another of Marianne's artistic ambitions is to ensure that no two pieces are exactly alike. From Marianne's perspective, she's unique, and so is her work.
(Quotation written by Diane Taylor.)
As of May 5, 2012, I am now an accredited member of North American Quilling Guild. See my accreditation project below.
| | |
| --- | --- |
| | |
| Accreditation Project | Receiving Accreditation from Sherry Rodehaver |
Quilling by Marianne
Website design ©2010 CustomSUPPORT
All Rights Reserved. Unauthorized use or duplication prohibited.
Comments about this site? Contact: Webmaster